Exhibition stand design and build – How to present your products with maximum results.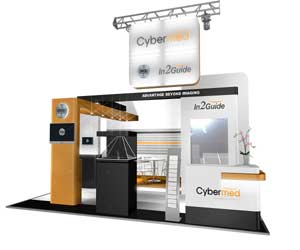 To get customer's attention in the first seconds, the successful presentation, exhibition stand design and build, logos, slogans, multimedia needs to be worked out in the exhibition stand design concept taking in consideration what message will be transmitted from different distances. Long range need high build structures with logo and slogan placement. Medium distance 10 – 20m needs to be considered. Short distance can be transmitted with printings and multimedia. Choosing the right exhibition stand design and build company is a crucial factor for the success of your presentation.
There is no doubt that professionals are needed to prepare an exhibition presentation as capable designers, efficient project managers and a construction team that can build the stand perfectly. Have it right done brings success which can definitively be counted in numbers. Increase of orders, respectable long terms business relationships and increased company's credibility and image.
Failures often cause the opposite: Low attention to the stand, minimum perception of the products or services, low credibility. Semi professional approach can turn the exhibition planning into a loss in the deep sea of unimportant to get with the crowd.
A research of the exhibition space availability and hall plans should be done in first place:
How many sides open the stand should have? A stand with 3 or 4 sides open can get more attention; a stand with two sides open generally gets more attention than a 1 open side stand. After selecting the place and size of the stand, there are two main options of stand construction: a system stand concept and a custom stand concept; here we focus on custom stand concepts, as system stands are pre-build structures with limited possibilities of design customization.
Custom design depends very much on how professional and how creative is the designer, John Davis says: "Our experience shows that there are designers that are capable to design stands that look in the realization impressive, causing attention and there are designers that even if their designs look good in the plan the design does not work at the exhibition."
"Some designers have an old fashion outcome with limited results and poor creativity. They work for construction companies which are limited in the construction capability; because not all design forms can be built. John Davis says:" "I have seen constructors not having the capability how to make and MDF plate round to create curves in the stand. So their designers cannot provide round forms as they cannot be built."
A detailed brief with clear requirements, will guide the designer in the stand creation process, it should include: the style of the stand, the exhibition targets, concept type (open or closed stand), open discussion areas and product placement are important information to help the designer develop the concept.
For the exhibitor, the selection of the right designer is crucial and as we are not all design experts, we should orientate ourselves on companies that can provide a rich design history of impressive stands and when we receive the design the reaction should be: "Wow! This is beautiful!"
Last Updated on June 29, 2020 by Traxor-designs